We recently surveyed over 300 UK Sales Managers and Personnel to find out the key challenges they're facing on a day-to-day basis within their sales processes.
The results uncovered that not enough relevant content, barriers in accessing that content and infrequent sales auditing processes are the biggest threats for sales teams generating and closing business deals.
Not Enough Content and Irrelevant Resources Are Shutting Down Sales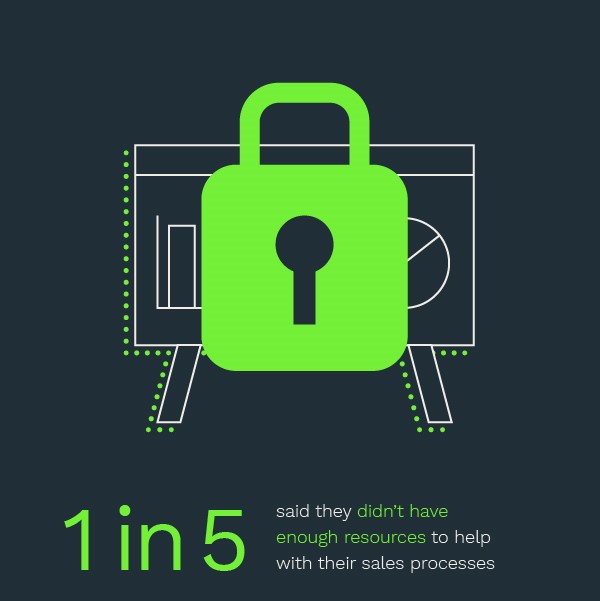 It's a simple fact that businesses need content to attract and nurture leads. But being able to provide the right content at the right time is what can turn a prospect into a customer or a client. Our survey found that around 1 in 5 (19%) said they didn't have enough resources to help with their sales processes. And almost half of respondents, 45%, admitted they frequently lose leads due to lack of traction with the right resources.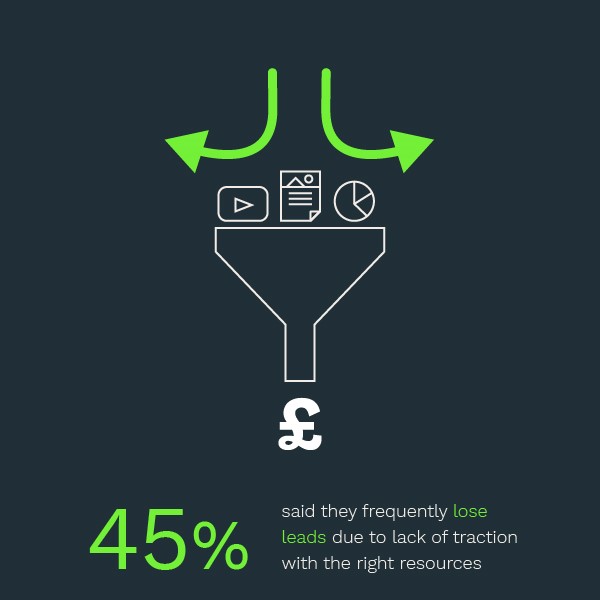 Content that doesn't deliver value or enhance the experience for customers, whether it lacks relevance, theme or isn't a compatible format, is a major road block to an effective sales process.
Sales teams need to have the most relevant content to share; prospects are less likely to move through the funnel if they're receiving content that's of little use to them. Even though businesses have embraced content marketing as a lead generation tool, it seems that the lack of and irrelevancy are the biggest problems with content resources used by sales.
In terms of sectors seeing he biggest challenges with content, the survey revealed sales managers within media and marketing companies were having the most difficulty accessing the content they needed – a sector that is considered to widely evangelise content. 28% of media and marketing salespersons don't have easy and direct access to their own sales collateral. If your sales team are relying on others to access collateral or resources, then you are no doubt losing velocity in your sales process and ultimately losing revenue.
Sales auditing is essential to adapt to changing customer needs
Although sales enablement technology empowers sales managers and agents to identify which targeting is closing the most leads, it's not a substitute for a regular appraisal of sales processes. The data compiled by sales enablement technology will actually help provide insights on the most efficient ways to improve a sales process.
81% of respondents said they infrequently audit their sales processes. Failure to analyse what is and isn't working not only opens you up to outdated and defunct sales collateral floating around, but your strategy will also be built upon old or incorrect insight.
Sales enablement allows sales and marketing teams to work on real-time insights that are data-driven and unique to their specific sales customer demographic. If companies are using sales enablement, the key to this working is thorough and continuous review for each region, product, and division and so on. Being able to monitor the buying journey in a new dimension makes it easier to optimise the processes.
Lack of time and the wrong resources = under-performing sales managers
As many as 65% of sales professionals feel that a deficit of time and appropriate resources are their biggest challenge. However, all sales and marketing departments will feel time poor if the systems they labour under are inefficient or poorly constructed.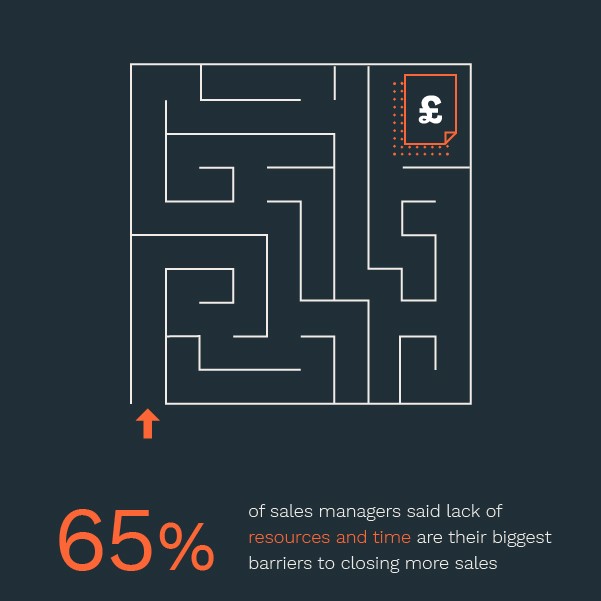 How can you free up more time and simultaneously solve the issue of inadequate, or hard to find marketing collateral? This is where sales enablement software steps in.  Sales enablement solutions provide detailed insight  into which pieces of content are working most effectively with your sales targets, allowing teams to streamline the content they have available by removing under-performing material  and help marketing to produce quality content that resonates with customers.
The technology also frees up precious time for sales who can quickly access and deliver the most relevant content to a prospect at their purchase stage.