Our latest Nordic-God-inspired product update goes live on the 31st October 2019, we are showcasing what is new in the Sif update in this post. The enhancements we have made in this update are equally driven by customer requests and our own vision for adding more functionality to the app. We hope you like them 🙂
Redesign of Content Management
We have redesigned the content management within the Sales Enablement tab in Salesforce. Making the experience more intuitive when navigating libraries and folders or categorizing content; alongside adding some exciting new features:
Custom fields can now be added to items of content, giving more control over categorization and enhancing searches
The Activity and Shares tabs have been merged, giving users a complete timeline of content that has shared and the engagement activity
We have added search functionality to both the Sales Enablement tab and our component when browsing content on record pages (leads, opportunities etc)
Email templates can now be positioned as content and promoted to users similar to other content
Popular Content is now available in the component, allowing users to see the highest-rated content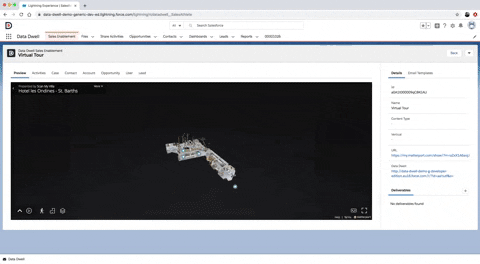 Matterport Integration Virtual Tours Now Supported
Widely used across property and construction industries, Matterport virtual experiences are now fully supported as content in Data Dwell.
Showcasing this powerful visual content is enhanced by collecting and scoring the engagement with Matterport 3D Virtual Tours. Everything is reported back to the Salesforce record so you are able to understand what your prospect has engaged with and their level of interest.
Identify Data Dwell to understand Pardot
Identify prospects who may have visited your site multiple times but haven't given you their details via a Pardot form. When they engage with a Data Dwell link during your sales process we will make that link for you and Pardot, providing you with their full user journey with both website and content engagement history.
Using Data Dwell links to content in Pardot will provide you with a deep understanding of how your prospects and customers are engaging with PDFs, blogs, MS Office documents, videos and any other content. Notify your sales team instantly when a prospect in their name engages and provide them with insight to make the next best action count.
Tailor Content Automatically
Automated personalisation! The dream right?! We now make it simple to merge Salesforce fields into your content templates instantly pre-populating Word, Excel and PowerPoint documents.
Simply add your dynamic text markers to your template, position in Data Dwell and when it's shared with a prospect or customer their data will automatically populate the content.
Be personal, but do it smarter with Data Dwell.