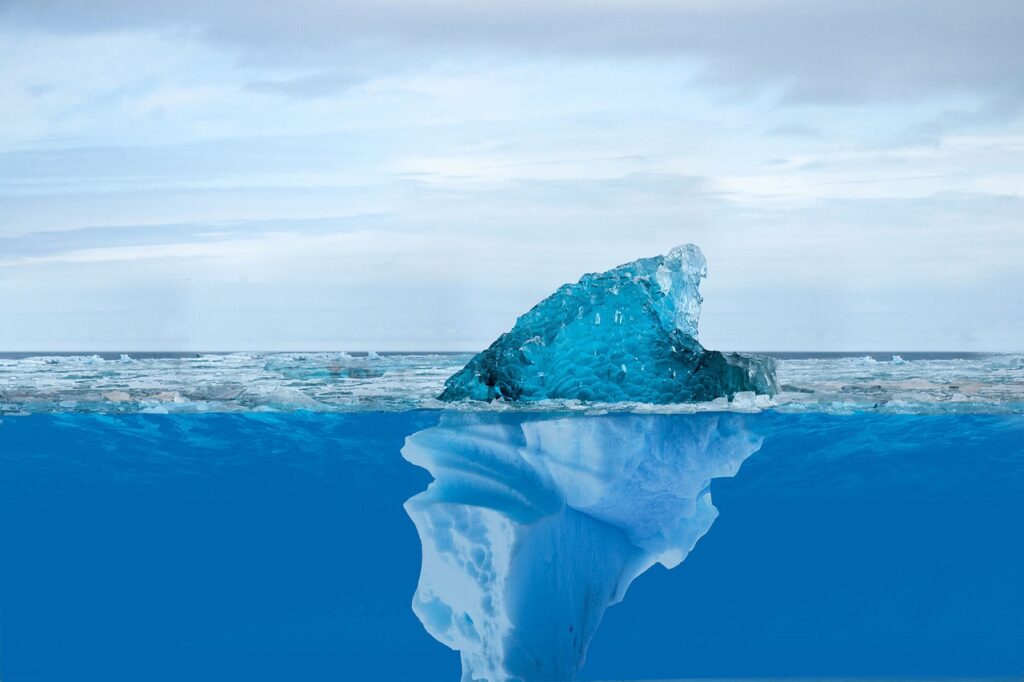 If you work in sales, marketing or indeed just about any customer-facing department, you'll be familiar with the sales funnel.
At the very least, you'll have an understanding that prospects go through different stages before they buy. They're attracted to your business, they learn more, they decide if they want to buy and then, finally, they buy.
That's the traditional sales funnel. But it's just that – traditional. Typical. And now outdated. It's just one small piece of the puzzle. It doesn't take into account the full customer journey.
Which is why we've created the Data Dwell Sales Enablement Iceberg.
As Data Dwell CEO, Olafur Thorkelsson says, it's:
"A simple, highly effective way to view the whole customer journey and make sure you're interacting with buyers and enabling revenue – not just sales – at every opportunity."
See the full Iceberg Funnel here.
Why an iceberg is the perfect analogy for the customer journey
We're an Icelandic company and we're proud of our heritage – we know icebergs, so of course it made perfect sense to use one in our own sales enablement funnel.
But we chose an iceberg for reasons beyond the ties to our home.
We knew there was a better way to showcase the entire sales funnel – to illustrate how the customer journey is different.
We knew there was a way to show how traditional funnels were limited in their outlook.
We knew we could show how the sales enablement funnel should focus on more than just sales – how it should focus on revenue.
Because revenue is bigger than just sales. There's so much more to it than just the top half of the customer journey… just like there's so much more to an iceberg than the part you can see above the surface.
"It's all about never underestimating the opportunities in front of you. Don't assume that the end of the traditional sales funnel is the end of your enablement opportunities or the end of the customer journey." Olafur Thorkelsson.
See the Iceberg Funnel now to learn which revenue opportunities your business is missing.
The Data Dwell Sales Enablement Iceberg shifts attitudes and mindsets away from just sales
Traditional sales funnels are focused purely on sales. They start when a lead becomes a prospect, and they end when sales reps close the deal. They're seemingly only relevant to sales departments, and perhaps marketing.
But we want to show organizations how they can use content at every part of the customer journey to enable sales – to enable revenue.
It's not just about sales.
We want to change those attitudes and mindsets that think of the sales funnel and sales enablement as being purely about closing the deal. As being just the remit of sales departments.
The iceberg funnel shows how every department can contribute to revenue enablement and deliver a better customer experience.
It shows the untapped revenue potential in your customer lifecycle
The iceberg funnel is also a clear and easy way to identify every stage in the customer journey – to see every touchpoint your organization can make with customers, both in the traditional sales cycle and beyond.
If you look below the surface, you'll see there are three huge sections of the iceberg that support the whole customer funnel. Three stages of your customer's journey where you can engage them more effectively and increase your revenue.
Don't overlook:
Conversion and onboarding
Retention
Advocacy
And it helps you get more from your sales enablement software.
Finally, we've designed the Data Dwell Sales Enablement Iceberg to help you and your organization identify every opportunity to use your sales enablement software.
Instead of just focusing on the traditional sales funnel, we've given you seven core stages of the customer journey where you can position content more effectively to engage your customers.
For each section, we've shared the most valuable types of content that your customers will want to see and interact with at each stage.
From content that attracts and interest, to content that builds loyalty, we've detailed exactly when and where you should be deploying content to engage your customers and increase your revenue.
It's your simple, interactive guide to transforming your entire customer journey.
Explore the Data Dwell Sales Enablement Iceberg Funnel here.