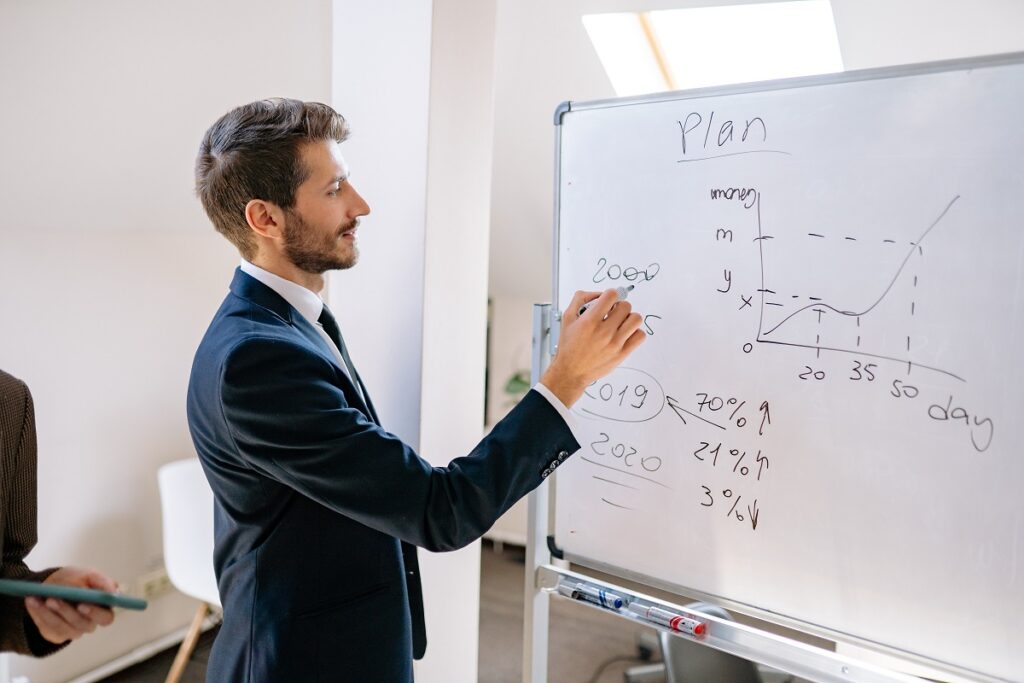 When you want to maximize revenue in your organization, you'll probably turn to your sales enablement software first.
After all, that's why you invested in it in the first place, right? To enable more sales.
You'll look at your sales funnel and see where you can make changes. Where you can improve or realign content, where you can engage prospects more effectively and where you can offer better incentives to close the deal.
But you shouldn't be looking at just sales.
You need to look at the whole customer journey, and how that's different from the traditional sales funnel.
You need to look beyond sales, at the opportunities within other departments to engage customers and create additional revenue streams.
You need to use our Sales Enablement Iceberg to dive beneath the surface.
The untapped potential that's hiding underneath
All too often, when we're looking for ways to increase revenue in our business, our eyes are drawn to the most obvious places.
The parts of the funnel we're most familiar with.
It's like an iceberg. We can all see the large white mountain of ice that's emerging out of the ocean… but it's easy to miss what lies beneath the surface.
As Data Dwell CEO Olafur Thorkelsson says:
"Think about the customer journey like an iceberg. Above the surface, there's your traditional sales process – everything your sales department does to close the deal. But below the surface there's just as much work to be done – just as much potential for sales and lots more revenue opportunities."
If you want to increase your revenue, you need to move beyond sales and dive deeper, as our Sales Enablement Iceberg shows.
Because underneath the surface, you'll find three huge stages of the customer journey where you can maximize your revenue.
1. Improve your onboarding and convert more customers
When a customer signs that contract or presses submit on their payment, the deal is closed right? Done and dusted?
Yes and no.
Because there's always time for buyers' remorse.
A closed deal doesn't always mean a converted customer. Neglect the onboarding process and your buyers may decide you're not looking after them. They might think that you don't value their custom and take it elsewhere.
If you don't give them a great onboarding experience, even if they don't cancel their deal, they're very unlikely to renew a contract or buy anything else from you.
So the first stage of the enablement iceberg below the surface that will help you maximize your revenue is a seamless onboarding process that reassures buyers they've made the right decision.
"You could even use the onboarding process to enable more revenue by offering seamless upgrade opportunities or automating bolt-on suggestions to the product or services purchased." Olafur Thorkelsson.
2. Build loyalty and increase your retention rates
One of the most effective ways to maximize your organization's revenue is by increasing your retention rates.
It costs far more – five times more – to acquire new customers than it does to retain them. And other research shows that increasing customer retention rates by just 5% can boost profits by between 25% and 95%, depending on your business.
To increase your retention rates, you need to focus on making a strong connection with your customers. You need to help and support them whenever you can, meeting their needs at every opportunity. That's how you'll build loyalty.
"Loyal customers renew. Loyal customers will buy more from you, when you present them with upsell or cross sell opportunities. They'll keep coming back if you give them the chance. It's a great way to enable more revenue, and it's another area that's often overlooked." Olafur Thorkelsson.
Retaining more customers with content that builds loyalty is the next stage of the enablement iceberg.
3. Get more referrals by turning your customers into advocates
The final stage of the enablement iceberg – deep below the surface – is advocacy.
Customer advocates will do your advertising and marketing for you. They'll drive both acquisition and retention to maximise your revenue across the board.
But to turn your customers into advocates, you'll need to focus your efforts on this stage of the customer journey.
You'll need to work with your customers to get content from them – like reviews and success stories that will inspire others to buy.
And you'll need to give your customers content they can share with their network, to make referrals for you.
"When you engage your most loyal customers consistently and effectively, you'll turn them into advocates for your organization. Then they will enable revenue for you. It has huge potential for your bottom line, which is why advocacy is such a big part of the Sales Enablement Iceberg." Olafur Thorkelsson.
Get right to the bottom of the iceberg, and you'll be maximizing revenue at every single opportunity in the customer journey.
Explore the full sales enablement iceberg now to discover what revenue enablement opportunities your organization is missing.