Whether you're running a sales enablement strategy or going further with a full revenue enablement approach, chances are you're using a wide range of tools to make the most of Salesforce.
It's easy to see why. With marketing, sales and customer success teams all needing to carry out different activities across the Salesforce ecosystem, it's impossible to do every single thing with just one tool.
But that doesn't mean you need a grab bag of solutions from different providers. By making use of Data Dwell and one other tool, you can create a coherent revenue enablement strategy and handle every single process you need.
Different teams use different tools – until now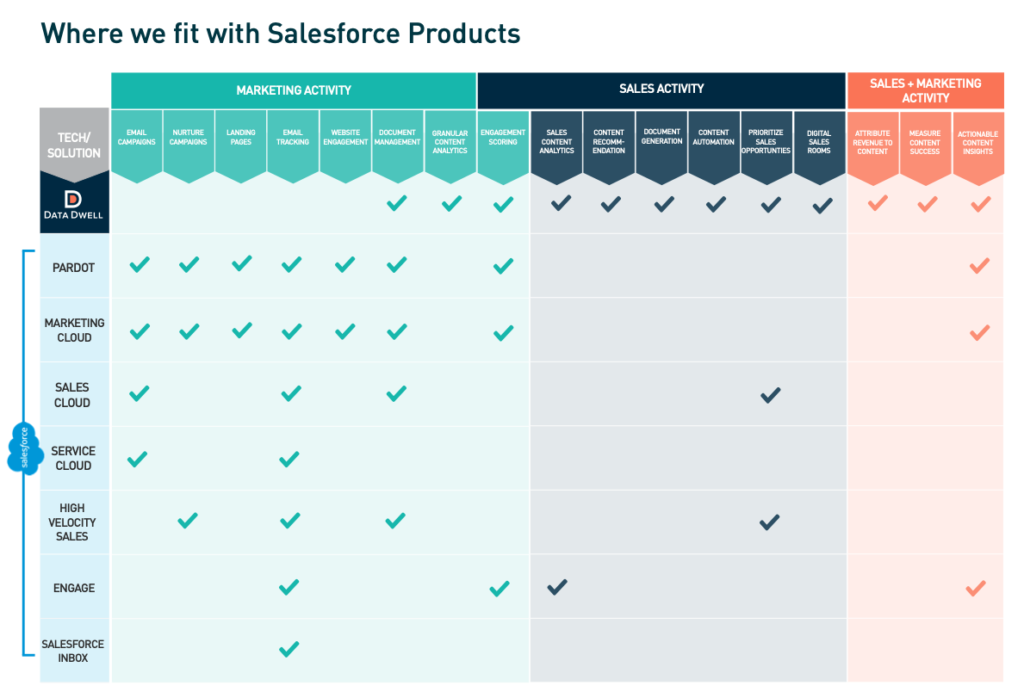 Your teams all use data from Salesforce in different ways:
Marketing use it to power email and nurture campaigns, manage landing pages and documents, and track content engagement.
Sales need to surface, recommend and deliver the most relevant marketing assets at the correct points of the sales funnel.
And your Customer Success teams need to identify everything that's gone before and deliver additional content to keep customers active.
This typically requires the use of different third party products, or manually pulling information buried in Salesforce to create reports and recommendations. But there is a better way.
For marketing, there's a wealth of tools…
When it comes to marketing activity, you're spoilt for choice. We analyzed 17 different activities and 10 different tools (including Data Dwell), and for 9 tools the majority of features focused on the following marketing activities:
Email campaigns
Nurture campaigns
Landing pages
Email tracking
Website engagement
Document management
Granular content analytics
Engagement scoring
Of the tools we analyzed, Pardot and Marketing Cloud have the functionality to run 7 of these 8 processes, Data Dwell, Sales Cloud and High Velocity Sales 3, and the rest two or fewer.
Data Dwell is the only tool to provide granular content analytics, but can you really handle all of the remaining activities with just Data Dwell and either Marketing Cloud or Pardot?
… and for everything else, there's Data Dwell
The answer is yes.
We also identified the following six sales activities:
Content sales analytics
Content recommendations
Document generation
Content automation
Prioritizing sales opportunities
Digital sales rooms
And three combined Sales + Marketing activities:
Attributing revenue to content
Measuring content success
Actionable content insights
Only Data Dwell could assist with all nine processes. Engage, the runner up, could assist with two, and no other tool could handle more than one of these essential activities.
So while there's no single tool you can use to manage every single Salesforce process for your entire campaign, there are two potential combinations that need just two different solutions.
With Data Dwell and one other tool, you can manage a full revenue enablement strategy
As you can see, combining Data Dwell with one or two other tools will tick every single box when it comes to revenue enablement.
Pardot and Marketing Cloud provide you with the information you need for 90% of your marketing activities, at which point Data Dwell will take up the slack and cover everything from granular content analytics, through the entire sales activity process, to the final revenue attribution and content success analysis.
You can keep bringing together half a dozen individual tools and manual processes to run your organization's revenue enablement strategy.
Or you can bring everything together with Data Dwell and one other tool.